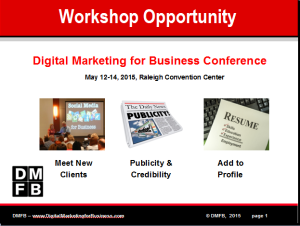 Are you interested in doing a Workshop at the Raleigh 2015 Digital Marketing For Business Conference?
Please submit a workshop proposal for consideration.
Workshops are sponsored (paid) presentation opportunities ($350).
While some self-promotion is acceptable, the content must be helpful to workshop attendees
If your proposal is accepted, workshop presenters get ready to use podium with computer, mic, audio, and he workshop will be added to the conference session list.
Extra promotional benefits for our workshops include:
Blog Post (about your session)
Podcast Interviews
Speaker Dinner Guest Invite (mingle with attendees)
There are a limited number of workshop session time periods available so apply early to increase your chances of getting accepted.
Tips for creating a Winning Workshop Proposal:
We are looking for topics that range from core digital marketing principles through the next great trends or ideas. See the Sessions page for some ideas.
We receive many submissions on popular topics. If you have a unique perspective, a new idea, or a creative presentation style we want to know about it!
Spend some time to choose great titles and informational descriptions. After all, we are marketers! Show us your skills with a publish ready proposal.
Tell us about the value you'll give to our attendees. What new skills, brilliant ideas, or action items will they take away from your session?